Leaders answer the call for a global pandemic response with an initial $8 billion pledge.
The European Commission recorded around €7.4 billion ($8 billion) in pledges in the opening of the Coronavirus Global Response pledging event last May 4.
Forbes noted that the Commission counted all the pledges since 30 January for this total, so it isn't clear how much of the pledges came from the event.
Nevertheless, the pledging event greatly helped in attaining the initial €7.5 billion target that will be used for the distribution of COVID-19 technologies.
The €7.5 billion target is the amount set during the Global Preparedness Monitoring Board meeting, which was co-convened by the World Health Organization (WHO) and the World Bank. Experts said that this amount will be enough for the immediate needs of the people worldwide.
The pledging marathon is on-going and will conclude by the end of the month. With this, donors are urged to continue pledging, especially since the initial target will not be sufficient to cover the entirety of the costs for the coronavirus response.
"Today the world showed extraordinary unity for the common good. Governments and global health organisations joined forces against coronavirus. With such commitment, we are on track for developing, producing and deploying a vaccine for all," according to President of the European Commission, Ursula von der Leyen.
Highlights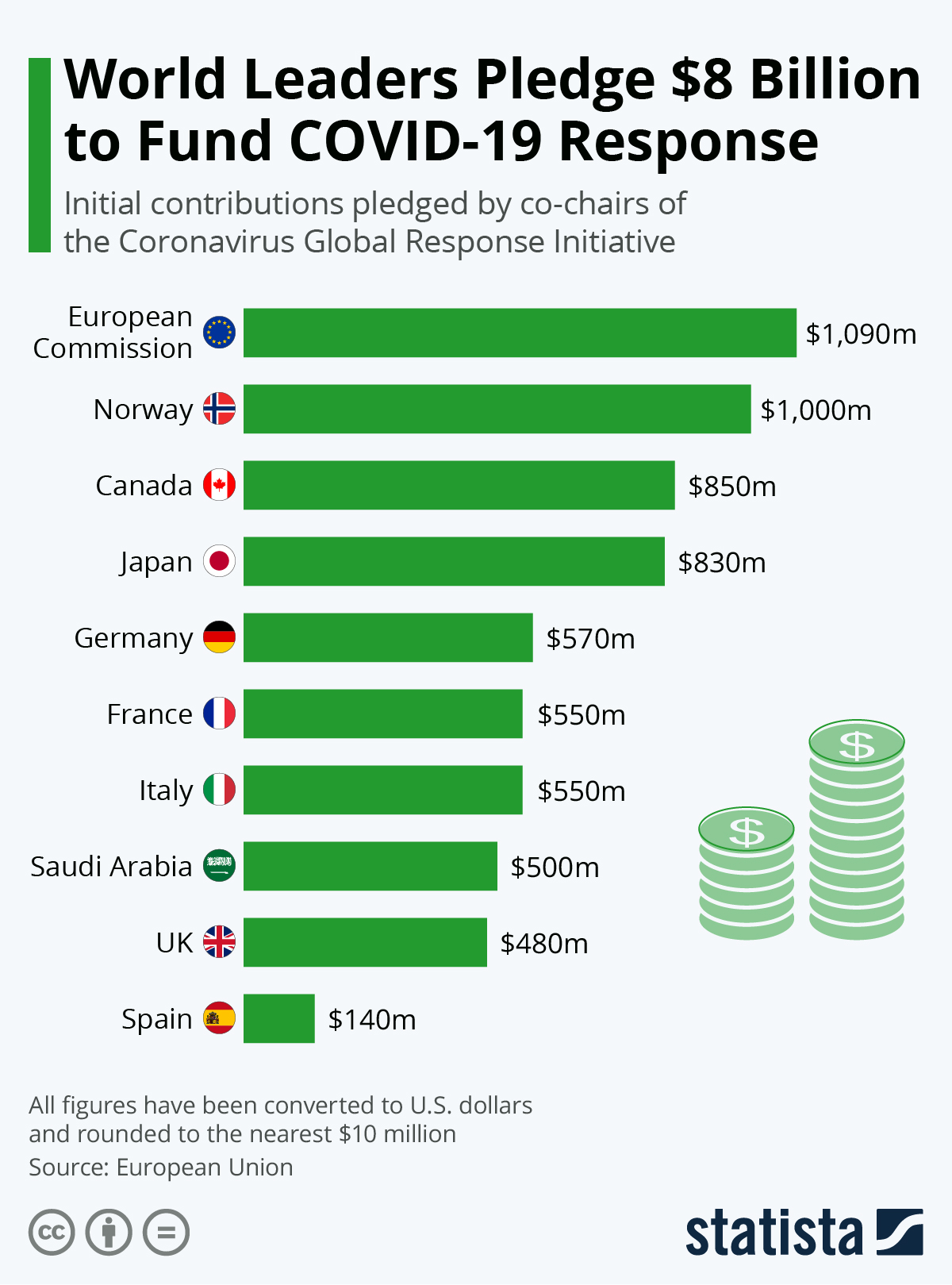 The European Commission-headed event is co-convened by Canada, France, Germany, Italy, Japan, Norway, Saudi Arabia, Spain and the United Kingdom.
The initial pledges of the co-chairs of the Initiative are shown in the chart above. We can see that the Commission itself donated the biggest pledge among the initial contributions at $1.09 billion.
It is also noteworthy to mention that the U.S. did not participate in the pledging event, which is expected as President Trump leads an America-first coronavirus response.
Melinda Gates also announced an additional $125 million pledge for vaccines during the event, bringing the total donations of the Gates to $300 million, surpassing some countries like Spain.
The pledges will focus on the three urgent needs amid the pandemic:
Test – Creation of new tests for rapid diagnosis
Treat – Finding new treatments to minimise COVID-19 symptoms
Prevent – Creation of vaccines to prevent infection and reinfection.
The donors can choose where their pledges will go among these three key objectives which have three corresponding partnerships.
The Commission clarified that they do not receive any of the pledges directly into their accounts— they only monitor the flow of the funds.. Instead, the funds will go directly to the recipients. Then, the recipients and the corresponding partnership will decide together on the allocation of the funds.
Some of the recipients of the funding from the Initiative include The Coalition for Epidemic Preparedness Innovation (CEPI), Foundation for Innovative New Diagnostics (FIND), and the WHO.
If you want to see the  full list of recipients of the Initiative and a detailed view of the Commission's coronavirus response, you can check their article