The global electric vehicle (EV) market is leading the news headlines, investors' watch hubbub and the general public interest. As companies like Tesla Inc (NASDAQ: TSLA), Nio Inc (NYSE: NIO), General Motors (NASDAQ: GM), Ford Motor Co. (NYSE: F), to Volkswagen AG (OTC: VWAGY) are creating new models for general consumption. The industry players, however, are beyond automobile producers.
Many know the metaphor of "during a gold rush, sell shovels," and this is exactly what companies like Charge Enterprises Inc. (OTC: CRGE) and Worksport Ltd. (OTC: WKSP) are bringing to the EV market.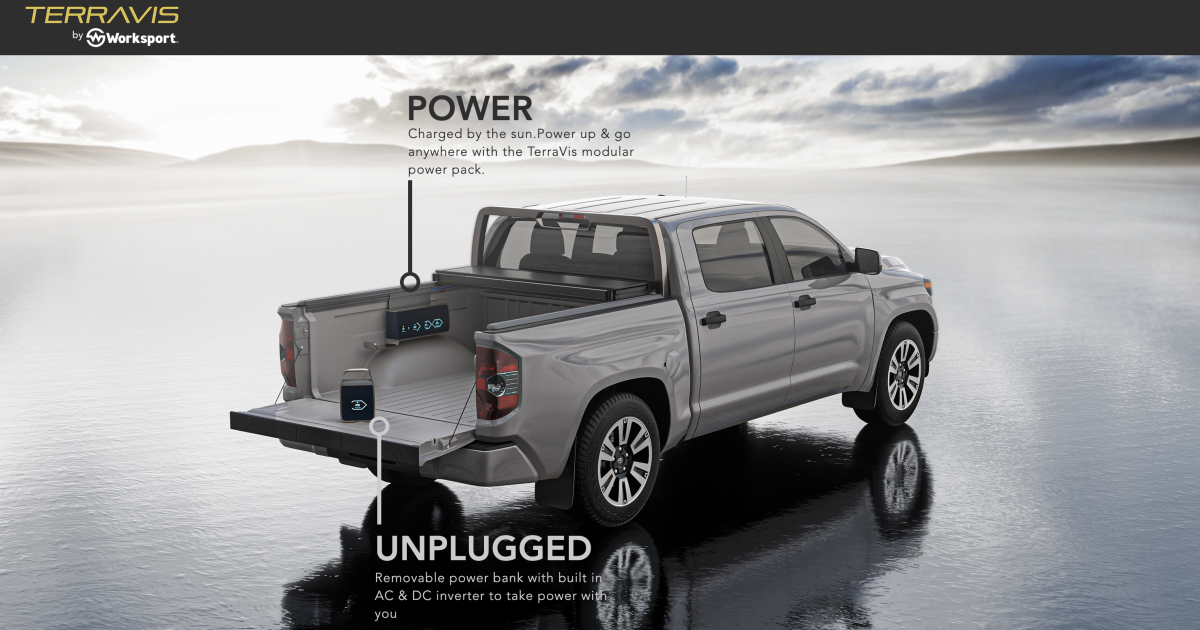 With only 100,000 charging stations available in the U.S., the industry does not provide enough charging options for the current demand. Here is where players who can offer solutions play a crucial role. From perfecting batteries to exploring new technologies, many are looking into alternative energy sources like solar panels.
Worksport Ltd., a manufacturer of high-quality and functional tonneau covers focused on pickup trucks, developed a solar-powered advanced truck tonneau that allows power from the cover to be stored in a modular battery pack suitable for EVs and other purposes — meet its TerraVis System™ model.
The company understands the importance of energy diversification and has been a great ally for the automobile industry for years now with its quality tonneau covers.
Worksport Ltd. announced today that apart from its expansion in sales of its great TerraVis System, it has expanded its private-label business segment, adding yet another major multinational brand and its second major private label agreement in the U.S.
Here's what you need to know.
Major Private Label Agreement In The U.S. With Multinational Brand
As previously stated, the identity of this party must remain private due to the contract terms. The company designed tonneau covers exclusively for this multinational private-label agreement, from its original, nonsolar, patented product lines. These products will not compete with Worksport's branded product offerings and add to company income.
"Worksport continues to expand its Private Label business with high value and reputable brands. Our traction and attention are undeniable, and we will continue to take full advantage of this momentum. We hope to see more potential customers and partners knock on our door," said Worksport CEO Steven Rossi.
"We are extremely excited to cooperate with this party as their ecosystem includes large, nationally recognized companies, both in the U.S. and globally."
Over the past decade, the company has created the Gold standard for tonneau covers, building up a robust supply chain and continually refining operational processes. The company is beginning to be acknowledged by some of the biggest players in the automobile industry.
Subsequent discussions for a future agreement amendment for private label implementations of Worksport's forthcoming TerraVis solar tonneau cover and COR battery systems. Accounting for the upper echelon of the U.S. economy's revenue, the brand earns nearly $60 billion annually, making the partnership a high-value, long-term client for Worksport.
Corporate Highlights
Additionally, Worksport Ltd. is teaming with Hercules Electric Mobility Inc. to be a Tier 1 OEM supply partner for its forthcoming Alpha electric pickup, created in partnership with Nissan Motor Co (OTC: NSANY).  And, while the company's panels are currently not able to independently power an entire journey, the vision is there — and it will certainly help drivers in remote areas where charging stations are scarce.
Plans are also being constructed to address the dire adoption and scaling needs of the EV markets with grid micro-charging stations to provide convenience and efficiency in recharging to smaller form-factor EVs.
Please visit www.worksport.com and www.goterravis.com for more information.
© 2021 Benzinga.com. Benzinga does not provide investment advice. All rights reserved.